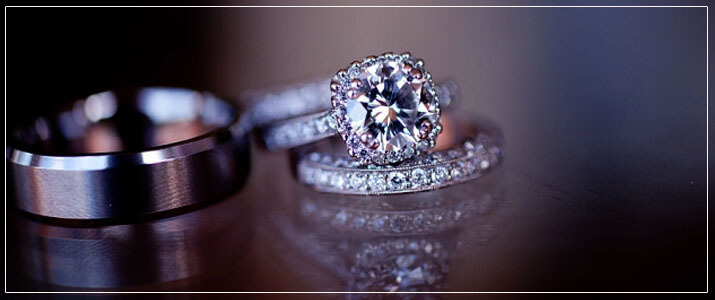 Wedding Rings
Wedding rings
Choosing your engagement and wedding rings is an exciting task! Luckily for brides in the Lansing area, we are surrounded by some of the finest jewellers in Michigan! There's nothing like the sight of a breathtaking diamond ring on your finger whether it's a new ring or a family heirloom. This is a truly fun experience of getting married, because brides and grooms and can choose any variety of rings to suit their styles.
What diamond suits your style? Solitaire, princess cut or cushion cut? Diamond encrusted band? Halo or none? Sterling silver or platinum? What suites the style of your soon to be spouse? Will you opt for matching bands or two unique rings to suit each of your tastes? When you speak with the jeweller, let them know what you're looking for so they can assist you as effectively as possible. If you love different aspects of three different rings, let the jeweller know because they might have a ring that combines those three elements but isn't on display!
While this is a fun activity for couples, there are a few simple things to make the process go a little smoother. Before heading out to shop, discus your budget - know it and let the jeweller know. When purchasing your ring ask about insurance and resizing - some jewellers offer a lifetime of free re-sizing so if you ever need the size changed or want to pass it down to your own children one day, you can take it to the jeweller and have it adjusted!